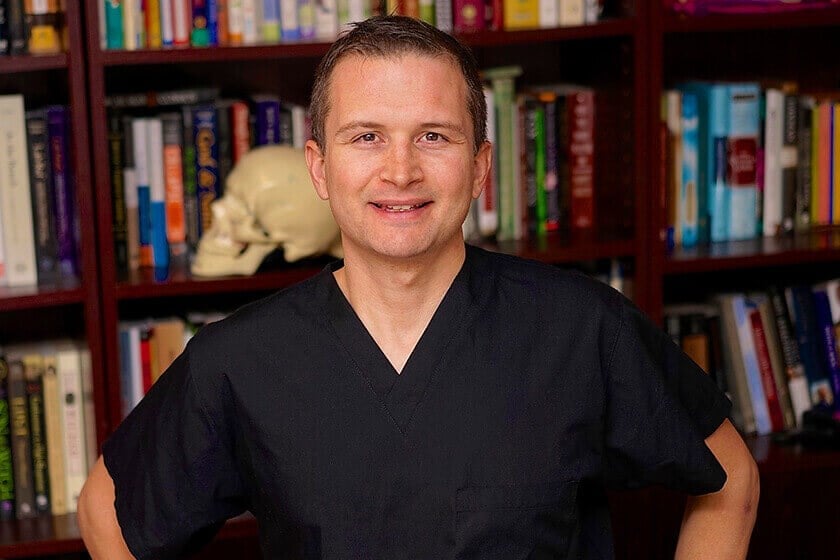 Dr. Baughman is a American Board Certified Plastic Surgeon and classically trained scientist who has studied under world-renowned plastic surgeons and respected doctors. His years of education and training in plastic surgery allow him to perform the latest plastic surgery techniques so he can deliver amazing results for patients in and around Westlake Village, CA. Since earning a combination medical doctorate (M.D.) and doctor of philosophy (Ph.D.) from the University of Texas Southwestern Medical Center in Dallas, Dr. Baughman has contributed to plastic surgery textbooks and published numerous scientific papers. He is also an active member of the American Cleft Palate-Craniofacial Association, which helps children with facial deformities.
At his practice in Westlake Village, Dr. Baughman offers a wide range of plastic surgeries. Some of his most popular procedures are breast augmentation, liposuction, tummy tucks (abdominoplasty), breast lifts (mastopexy), and facelifts (rhytidectomy). Dr. Baughman uses his skill to deliver results that look beautiful and natural. Every patient receives a thorough examination and consultation during which Dr. Baughman will customize their treatment plan to fit their needs and goals.
Dr. Baughman has received years of plastic surgery training in comprehensive plastic surgical and nonsurgical care of the face, breast, and body. Following in the footsteps of his parents and older brothers, Dr. Baughman started his higher education at Kansas State University where he was mentored by distinguished professor and accomplished lipid biologist Dr. Ruth Welti. Dr. Baughman graduated summa cum laude with a Bachelor of Science in biology. Dr. Baughman then accepted a position in an elite program at the University of Texas Southwestern Medical Center in Dallas where he earned his medical doctorate (M.D.) along with his doctor of philosophy (Ph.D.). His doctoral thesis, "CD8+ T cells in multiple sclerosis," was done under the supervision of hematopathologist Dr. Nitin Karandikar. Dr. Baughman gained interest in plastic surgery under the mentorship of Dr. Rod Rohrich, Dr. Jeffrey Kenkel, and Dr. Jeffrey Janis. Dr. Baughman then accepted a position in the integrated plastic surgery residency at Washington University in St. Louis where he received research mentorship from craniofacial surgeon Dr. Kamlesh Patel. In training, he acquired specialized training in nerve repair and reconstruction, which requires expertise in nerve anatomy and function.
American Plastic Surgery Board Certification
The Rohrich Family Excellence in Plastic Surgery Award
Barry Goldwater Scholarship
American Society of Maxillofacial Surgeons Scholarship
Dr. Baughman was born and raised in rural western Kansas. His decision to go into the medical field was influenced by his father, a veterinarian. Dr. Baughman is happy to be in California with his wife and two children where they can enjoy outdoor activities in the great weather. An avid cyclist and triathlete, Dr. Baughman loves to keep in shape while raising money for great causes, such as cancer, juvenile diabetes, and multiple sclerosis research efforts. Dr. Baughman also holds a commercial pilot's license, and he loves exploring the hills of Southern California from the air.
Dr. Baughman is honored to be an American Board Certified Plastic Surgeon and appointed as the newest member of the Greater Conejo Valley Chamber of Commerce and looks forward to being involved in Chamber activities and community events. Please see the Greater Conejo Valley Chamber of Commerce website to find out more about the Chamber and the work they do.
Reviews
"I went to Dr. Baughman for a hand injury and he and his staff couldn't have been nicer or more professional. Never had to wait for my appt, even when I was late. Answered every question I had and made me confident I could trust him. Very happy I went to see him."
D.R.
Google
"Dr. Baughman positively saved my hand and possibly my life. I am beyond grateful and impressed by both his professionalism and surgeon skills. It was his decision to proceed with an urgent surgery and one that no doubt changed my life for the better. His knowledge, skills, experience and professionalism are second to none. I can confidently & STRONGLY recommend Dr. Baughman. THANK YOU ONCE AGAIN!"
D.S.
Google
"Dr. baughman did a beautiful job on my sons finger! Very kind and communicative!"
J.C.
Google
"Amazing experience with Dr. Baughman. Right from the start his professionalism and friendly disposition put me at ease. He is extremely accommodating and really works with you. He is patient and addressed any and all questions and/or concerns I had throughout the entire process. He is a skilled surgeon and I am very happy with the results. I would absolutely recommend him And would go back to him in a heart beat."
B.M.
Google
"I degloved my right thumb in an accident. West Hills hospital referred me to Dr Baughman. He has guided me through recovery. He was always available to encourage me. It looked very bad in the beginning. We were sending photos daily and he responded so quickly. I've never experienced that level of care. This was a scary injury and I needed and appreciated his guidance. I was thankful for his boost of confidence that I was on the right track. I would highly recommend Dr Ethan Baughman."
L.&.
Google
Related Post